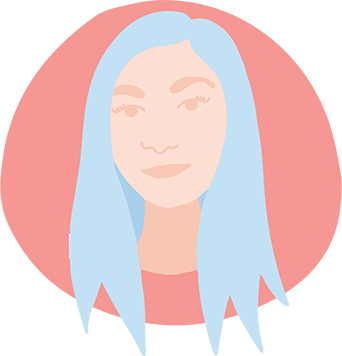 "I legitimately love accounting – there's something soothing about putting everything in its right place."
Brittany Turner, CPA
FOUNDER, ACCOUNTING ADDICT, CAT WRANGLER
Brittany was born and raised on the beaches of South Florida. Have you ever spent Christmas on the beach? She has (and it's glorious!). For a middle school project, she had to write a bio and in it she predicted that she would move to NYC one day, be the editor in chief of Moxie Girl magazine (anyone else remember that?), and find love in The Big Apple. Turns out she did move to NYC, met the love of her life, Chris, and became the founder of the coolest accounting firm on this side of the Mississippi – a fate that makes 12 year old Brittany very proud.

Even though Britt has been tinkering in QuickBooks since she was a teenager (yes, very normal), like most people, her head would go blank whenever she heard the word accountant. What do they even do? Are they aliens? Why would someone pick that for their actual life? lol

Taking two accounting courses was a prerequisite for her general business major. She enrolled to the first course late and the professor actually told her that she would fail because she had missed too much. Well, you wanna know what? She self-taught the material, spent every lecture working ahead, did all of the homework problems twice, studied nights and weekends, and got 100's on every exam. She still wasn't convinced though – "could I really do this for a living?" she thought. Her professor for the second course was not an old, grumpy man, but instead a very young and hilarious woman that drove a nice ass car and literally said to the class, "Do I love accounting? I don't know. I love my job, I love my life and I'm really good at it." Brittany was sold. That professor became a mentor to her and she had officially changed her major to accounting before the semester was over. And, well, the rest is history.

Working her way through school, Brittany tutored other students in accounting, tax, statistics, algebra, anything really fun, you know? She was on a mission to be the mentor that she had, to others. To show more people that accounting is actually not dry and boring. That it's a great, challenging and flexible career that shouldn't be overlooked. How many people never gave it a shot due to a crappy (and mean!) professor in school?

Armed with her fresh ass Bachelor's Degree in Business Administration with a major in Accounting, she headed to NYC (on a whim!) to find love (and a job!). And – you won't believe this – she met her husband the day she arrived in the city, through a friend. Follow your heart – even the crazy callings that compel you to give away everything that doesn't fit in a car and move 1,200 miles from home by yourself in nine days.

After getting accepted to Pace University, Brittany began working in NYC's real estate industry as an accountant overseeing a portfolio of properties, while she attended night classes to get her Master's in Taxation. She was able to gain experience in accounts receivable, accounts payable, budgeting, forecasting, financial reporting with variance analysis, insurance, payroll, entity consolidations and new setups – the whole gamut of what it takes to start, run and eventually sell a business. She continued working her way up professionally, eventually overseeing a team of property accountants and hundreds of high rise properties in Manhattan with the salary to boot, but couldn't shake the feeling that something wasn't quite right. What happened? Isn't this what she always wanted? Isn't this what she worked so hard for? Isn't this what she sacrificed for in school for all of those years?

Between the politics, the late nights, and the lack of respect in Corporate America, she dreamt of building a company where she could continue doing work that excited and challenged her, but could also have trust, flexibility, and autonomy. She envisioned a sunny office, big windows, casual vibes, babies and dogs at desks, in-office childcare, and not needing to punch a theoretical clock. (If you've ever gotten a side-eye for leaving the office on time, you know what we're talking about here). Ringing phones mixed with laughter mixed with chit-chat. Where people were measured by their output, not by how many hours their butt was parked in a seat. She knew that the same services she was providing to real estate investors could be life changing for small business owners.

So like any rational person, she resigned from her job a month before her wedding and went full-time with her side-hustle-turned-business back in 2016.

While still very much a NY'er at heart (you should listen to the mouth on this one), after almost ten years in NYC, she and her husband moved their caravan of cats to the suburbs of Philly to be closer to family, friends, and enjoy some nature. In her free time, Brittany loves taking her dog hiking, trying new restaurants with her husband, home improvement projects, and running errands. Lol, yes, seriously – she loves running errands – what did you expect?
Christy Wilson, CTP
ACCOUNTANT, CASH COUNTER, BEACH LOVER
Christy was born in the deep south but moved to the deserts of Arizona during her high school years (she still says y'all). Christy graduated from Arizona State University with a Bachelor of Science in Marketing. Her love for accounting blossomed while working as a marketing analyst for a high tech company in Phoenix. From there, she moved to sunny Florida and married into the nomadic life as a military wife. After earning her Masters of Accountancy at the University of West Florida, she's broadened her accounting knowledge in hospitality, oil & gas, non-profit, and real-estate. Christy loves helping our small business clients get and stay organized with their bookkeeping and processes.

When she's not counting cash, she's busy counting her 3 kids, husband, and spunky Jack Russell terrier around the suburbs of Jacksonville, FL.
Bree Parker
TAX ACCOUNTANT, GREEN-THUMBED GOAT MAVEN
Hailing from the plains of Kansas, Bree spent most of her childhood moving around the Midwest – from Kansas to Nebraska to Minnesota to settling in rural Missouri. She's a Midwest girl through and through. Bree graduated from University of Central Missouri with a Bachelor of Science in Accounting. She has always loved working with books and finances, though her journey wasn't a straight shot. Bree spent the first half of her working life in retail before bravely returning to college. Since getting her degree in accounting, she has honed her skills working in small CPA firms, gaining most of her accounting experience working with small business accounting and taxes (a perfect fit for Countless!).

Away from the books, Bree loves hanging out with her two kids and husband. She enjoys spending time outside on their five acres with her kids, gardens and goats. Once the kids leave the nest, Bree looks forward to trading in the Green Acres life for beaches and sunshine.